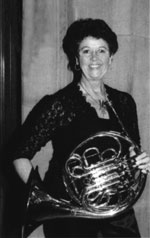 Ann Davies (1952 - 2015)
Club members will have been shocked by the death of Ann Davies on October 6th at the age of 63. Apart from a couple of her teenage years, Ann lived all of her life in Todmorden where she worked as a primary school teacher. For a time the family had moved to Peru where Ann's father worked in the textile industry. She told stories of how their Peruvian maid used to throw the pasta at the walls before serving it: if it stuck to the tiles it was ready to eat! It was in these years that she learned to speak Spanish – a language which she took up again in later life, becoming quite fluent.
On returning to Todmorden Ann wanted to learn the trumpet and she approached Dr N.J.De Ville Mather of the Todmorden Orchestra. Dr Mather was a horn-playing GP with whom many of us of a certain age have played gigs around East Lancashire and West Yorkshire in the 60s and 70s. Another of Dr Mather's protégées was the bandleader and TV composer Geoff Love. On Mr Love's death Ann acquired his trombone and it will now be donated to the Todmorden Orchestra. At the time the orchestra did not have a spare trumpet so Ann was given a horn which was apparently over 100 years old. She fell in love with it and progressed rapidly under the tutelage of Brian Robinson. Ann made her debut with the orchestra in 1966, eventually becoming Principal horn and remaining a member until her death. At its concert on 27th June 2015 she was one of the players given a presentation for long service. Besides the Todmorden Orchestra , Ann was for a time a member of the Halifax Philharmonic Orchestra and played with several other local orchestras around West Yorkshire.
Apart from music and horn playing Ann was devoted to animals, especially horses and dogs and it was whilst walking her dog on October 6th that she collapsed and died from a massive aneurism. She had attended a meeting of the Northern Horn Club two days before when other members present said that she was on fine form. Her funeral on October 14th was attended by many musicians including several horn players. Bob Shaw played the 'Epilogue' from Britten's Serenade for Tenor, Horn and Strings as a closing tribute.
We send our condolences to her family and friends.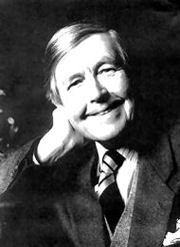 Arthur Butterworth (1923 – 2014)
The composer, trumpet player and conductor Arthur Butterworth, who has died aged 91, will be well known to many horn players for his Romance for Horn and Strings which (in a horn and piano version) was on the ABRSM syllabus for many years.
Arthur was born in Manchester. He became a choirboy aged seven and, soon afterwards, joined the local brass band, learning first the trombone, then the trumpet and cornet. Arthur started attending the children's concerts staged by the Hallé Orchestra; this gave him an ambition to be a professional musician. Much later in life he used to say that he would really have liked to have learned a stringed instrument.
Arthur began his working life as a trainee in a solicitors' office before being called up and posted to North Africa during World War 2. On being demobbed, he won a place at the Royal Manchester College of Music to study the trumpet and composition. His composition teacher was Richard Hall who was a formative influence on the 'Manchester School' of composers which, however, Arthur rejected. He took composition lessons privately with Vaughan-Williams who became, with Sibelius, one of his all-time heroes. On leaving the RMCM Arthur took a job with what is now the Royal Scottish National Orchestra. In Scotland, he met his wife, Diana. He also became the unofficial assistant conductor to the orchestra's Musical Director, Karl Rankl.
He returned to Manchester when he was appointed to the Hallé Orchestra by Sir John Barbirolli. Sir John recognised the talent in his 2nd trumpet player and premièred the first of his seven symphonies at the Cheltenham Festival. On leaving the Hallé, Arthur joined the music service of the old West Riding Education Authority based in Wakefield. Initially he was joint conductor (with the horn player Wilfred Heaton) of the West Riding Orchestra – an ensemble of some 35 players which toured schools giving educational concerts. When this was axed due to machinations at County Hall, Arthur, along with most of the other players, became a 'peripatetic' instrumental teacher. His compositional activities continued and he conducted many of his works with the BBC orchestras and the Royal Scottish National Orchestra. As a conductor he took charge of the Huddersfield Philharmonic Orchestra, the Halifax Symphony Orchestra and the Settle Orchestral Society. He was also founder-conductor of the free- lance professional Dales Sinfonia.
On retirement he continued to compose (his seventh symphony was recently premièred in Russia) and became a volunteer on the Yorkshire Dales Railway near to his home at Embsay, Skipton. He also took up the horn and played a Rauox instrument which he had been gifted by a friend. In his 91st year he organised an orchestra to play Elgar's First Symphony at Christchurch in Skipton where, earlier in the year, the Northern Chamber Orchestra had premièred his Elegy in memory of his wife Diana who had recently died. I was playing 4th on that occasion and it was quite a moving experience for me (I am involved in, and on the committee of, the Yorkshire & North East Branch of the Elgar Society and an unreconstructed Elgar fan!). My first contact with Arthur went back to about 1961 or 1962 when the West Riding Orchestra made one of its periodic visits to Salts Grammar School (or rather the Victoria Hall in Saltaire which was used as the venue for many large events at Salts which had outgrown the premises which Sir Titus had provided and was on a split site inconsequence). They played some of the 'Enigma Variations' and I am pretty sure that Arthur was conducting that day which meant that my first horn teacher – Wilfred Heaton – would have been playing 2nd horn.
The Elgar 1 at Christchurch proved to be Arthur's last concert as he suffered a heart attack soon afterwards and was advised by his doctor to give up conducting. He had hoped to re-assemble the orchestra to give a concert of Sibelius but this was not to be.
A funeral service was held at Tarn Moor Memorial Woodland, Skipton, on Friday, December 12. Mr Butterworth leaves two daughters, Nicola and Carolin, and grandchildren Harvey, James, Andrew, Michael and Charlotte.
Paul A. Kampen
Harry Brennand (1930-2013)
Harry Brennand passed away at his home in Worcestershire aged 82.
Harry was born in Nelson, Lancashire, and took up the horn after hearing the local Nelson Orchestra, taking lessons from its Principal horn. He went to the Northern School of Music in Manchester where his horn teacher was Peter Ryder of the BBC Northern Orchestra; and then to the Royal Academy of Music in London where he studied with Aubrey Brain. Harry was the first ever Principal horn in the National Youth Orchestra of Great Britain and he played its first notes in public - the opening solo from Weber's 'Oberon' overture at the Pavilion, Bath, on April 21st, 1948.
Harry then went to Scotland as 3rd horn to Farquharson Cousins in the Scottish National Orchestra. In 1954 he moved to Leeds and the Yorkshire Symphony Orchestra; however, the writing was firmly on the wall for the YSO and he soon moved to Birmingham as 3rd horn of the BBC Midland Orchestra. In 1960, the BBC reduced the size of this orchestra and Harry moved on again - this time to Cardiff and the BBC Welsh Symphony Orchestra. He moved back to Yorkshire in 1969, becoming a peripatetic brass teacher for the West Riding Education Authority. His final move was to Leeds Music College where he was Head of Brass. During his years as a teacher he freelanced as a player in Yorkshire.
Harry's daughter, Lynn Morrell, is also a horn player based in the Bristol area.
David Wise (1933-2012)
David Wise was born in London and took up the horn after experimenting with several instruments at school.  His first teacher was the school's bandmaster and he had few specialist horn lessons apart from an occasional visit to the Royal College of Music for a lesson with Douglas Moore.
David did his National Service with the band of the Royal Inniskilling Fusiliers stationed in Belfast. There he was able to have further horn lessons, from Denys Stephens - principal horn of the BBC Northern Ireland Orchestra (and reputedly the last professional player to use a 'peashooter' horn in his day-to-day activities).
Towards the end of his time in the army, David was shown an advertisement for the job of 4th horn in the Halle Orchestra.  He applied and was successful - joining the rather unhappy section headed by Maurice Handford (a superb horn-player and conductor but a very difficult man).  David was nicknamed 'Cheeky Charlie' due to the fact that he had managed to get the job without auditioning for Sir John Barbirolli.  But this changed when the Orchestral Manager - Wally Jones - collared him one day and said - "the old man's dressing room - now!"  However, Sir John went on calling him 'Charlie' from then on!  David took time off on occasion to work in London with the LSO and the Philharmonia (he is 4th horn on the Philharmonia's recording of Carl Orff's 'Carmina Burana with Rafael Fruhbeck de Burgos which is still in the catalogue) and stayed with the Halle for nearly a decade - enjoying working with Handford's successors Ifor James and Julian Baker.
He then left for the free-lance life becoming in his time the best-known Wagner Tuba player in the North of England.  He joined the West Riding Wind Quintet based in Wakefield and touring round schools giving demonstration concerts;  he remained with the quintet when they were taken over by the University of Leeds.  David was one of the best known free-lance players in the North of England - playing with many different orchestras and also being, for a time, principal horn of the Manchester Camerata.  When his first wife, the violinist Jean Briar, died of a brain tumour in 1993 he decided to retire.  He moved back to London and happily re-married.
His life-long hobby of taking his car to bits and putting it back together again was replaced by photography and he became the official photographer for the British Horn Society. He attended the BHS 2011 festival at the Royal Opera House in this role and enjoyed talking to many old friends and colleagues.  Sadly, just three months later, he also fell victim to a brain tumour having already been diagnosed with teminal cancer.